Any truck, new or used, is a large investment. As a result, many truck owners want to protect their investment and minimize additional expenses. This protection can often include insurance policies, frequent cleanings, and regular maintenance visits. However, in addition to these standard types of care available for your truck, you can also take your protection to the next level if you have a truck or pickup with a bed. The answer is tonneau covers for trucks.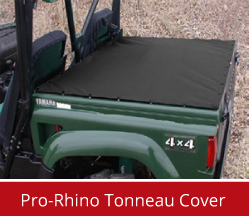 A tonneau cover is a protective layer that you apply across the top of your truck bed in order to add versatility and protection. Truck owners can find vinyl tonneau covers, as well as covers made from a variety of other materials —including canvas, ABS/plastic, metal, fiberglass and more. You can also choose from endless amounts of colors and multiple methods for applying and retracting the covers.
If your vehicle has a bed, chances are there's a tonneau cover made for it. At SiraWeb, we offer a variety of affordable tonneau covers for popular vehicles such as the Dodge Ram, Toyota Tundra and Ford F-150. We even offers tonneau covers for UTVs and Subaru Bajas as well as other vehicles. Once you determine that you want to protect your truck with a protective cover, the next step is learning about the benefits and figuring out which tonneau cover is best for your truck.
The Benefits of Truck Tonneau Covers
Every tonneau cover offers unique benefits for your truck, the most important being protection. In general, tonneau covers for pickups will provide:

Security and privacy — Above all else, a tonneau cover gives vehicle owners an improved sense of security for any items they place in the bed of their vehicle. Whether it's a hard or soft-top tonneau cover, you'll have added peace of mind because passerby won't be able to see what you're storing in the bed of your truck. Hard-top tonneau covers often come equipped with locks, so you can turn the bed of your vehicle into a safe storage area that nobody but you can access. In essence, a tonneau cover is a purchase that will allow you to turn your vehicle into a mobile work station — some of the best folding tonneau covers give you the ability to safely store expensive tools and equipment without a second thought.

Weather resistance — A tonneau cover not only protects the items in your bed from theft, but it can also protect your truck from the elements. Protection from the weather is particularly important if you haul electrical equipment or metal tools that are prone to rusting. Almost all tonneau covers are constructed from materials that are waterproof, which ensures that the items you store in the bed of your truck will be weather-resistant and make it to your destination safely.

Gas mileage improvements — An affordable tonneau cover is a quick way to improve the gas mileage of your vehicle, which could end up reducing some of your yearly expenses. By applying a tonneau cover to your vehicle, you'll eliminate the drag created by your vehicle's bed. This makes your truck more aerodynamic.

Added style — Regardless of whether you choose a vinyl tonneau cover, hard-folding tonneau cover, or a hard plastic tonneau cover, your vehicle will experience one of the most cost-effective facelifts. A tonneau cover presents a more finished look and makes your bed look organized, even if it's filled with equipment. A tonneau cover can help improve the aesthetics of your truck for a more affordable price than a lot of other modifications.
What Is the Best Tonneau Cover?
Once you know you want a tonneau cover, it's important to analyze how you'll use it. For example, are you looking for a tonneau cover that will offer high quality security for the items you put in your truck's bed? Do you want a tonneau cover that will easily come on and off your truck? Is installation a concern for you? It's also important to take budget into consideration, as various tonneau covers carry different price tags.
The following is a list of tonneau cover types, their pros and cons, and what you can expect to pay for each. This will help you determine the best prices for tonneau covers and which type is ideal for your truck:
Soft-top Tonneau Covers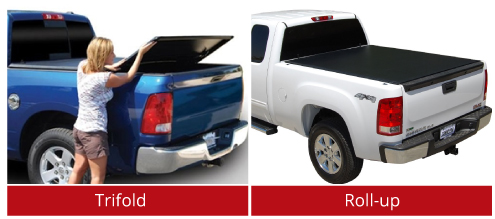 Soft-top tonneau covers are made of vinyl or canvas. They don't offer the same level of protection as hard-top covers, but they make up for it in convenience. Soft-top tonneau covers are extremely easy to install — in many cases, you'll simply need to clamp the tonneau cover to the side rails of your pickup. Soft-top tonneau covers also tend to come in one of two styles: roll-top and trifold.
Trifold — Trifold soft-top tonneau covers fold away in three sections. They'll give you easy and quick access to specific sections of your bed without having to remove the entire tonneau cover. If you don't constantly need access to the entirety of your bed, this is a convenient cover for you to purchase.

The TonnoPro Tri-Fold tonneau cover includes a useful instructional video, so you can see exactly how these covers install and operate. As versatile as these covers are, they can sometimes make it more difficult to access the full bed of your truck due to their partitioned style. If you're frequently hauling larger equipment, it might be best to avoid this type of cover.
Roll-up — The roll-up tonneau cover offers an even simpler design than the trifold cover. The installation is often similar, but the primary difference between these two types of soft covers is that the roll-up cover is not partitioned. It can easily be rolled all the way back to the cab of your truck. This gives you full access to the bed at a moment's notice. Roll-up tonneau covers also have a very low profile with little to no additional height above the siderails of your truck.

As a result, this type of tonneau cover is better suited for truck owners who intend to frequently haul large items in the bed of their trucks. It's also ideal if you need to regularly access the entirety of your bed, similar to the Tonno Pro tonneau covers offered at SiraWeb.
Hard-Top Tonneau Covers
The second category of tonneau covers is the hard-top options. The biggest benefit to the hard-top tonneau covers is added security. It becomes more difficult for anyone to get into the bed of your truck when you have a hard-top tonneau cover installed. If you're concerned about security and are willing to pay a higher price tag, these may be the best tonneau covers for you. Hard-top tonneau covers come in:
Trifold — The trifold cover is essentially identical to its soft-top counterpart. The primary difference is that the folds will not be as compact — the plastic doesn't allow the top to be as thin.
Retractable — A retractable hard-top tonneau cover is similar to roll-up covers. The primary difference is that the hard cover won't roll up to the cab. Instead, it'll retract into a canister. These systems are among the most expensive but efficient that you can purchase for your vehicle. They offer a large amount of security and the ability to easily allow full access to the bed of your truck. If you can't compromise security and convenience, a retractable tonneau cover is an option to consider.
Solid plastic lid — The solid plastic lid is exactly what the name implies. It's a tonneau cover made from a solid piece of plastic that will sit on the bed of your truck. They aren't as seamless as their soft-top counterparts or as elegant as the fold and retractable systems, but they're some of the most durable and secure covers available.

Most of these solid plastic lids will include a hydraulic lift that will assist you with opening the lid that weighs above 60 pounds. Installation and removal of these tonneau covers can be a bit more difficult and will require assistance. Remember that, because these types of covers only open at an angle, you'll never have full access to your bed if you have one installed.

You can also install a lid that's constructed of painted fiberglass in a color that matches your vehicle. However, if your vehicle has been exposed to the sun for a few years, the fiberglass may not match the color of your truck.
If you're not overwhelmingly concerned about security, it may be best to stick with soft-top tonneau covers. They're easy to install, lightweight, offer mild security and privacy, protect your truck from the elements, improve gas mileage, and are cheaper than their hard-top counterparts. You can also browse our selection of tonneau covers to see what options are available for your vehicle, as well as read in-depth specifications about materials and installation instructions.
Additional Considerations for Truck Tonneau Covers
When you know what type of tonneau cover you want, make sure the company you work with stands behind their products. Any tonneau cover you purchase should have a warranty protecting the cover and its components from defects and manufacturing.
For example, Tonno Pro's warranty is one of the best. It offers a 10-year warranty against any defects of material and workmanship in their products. These types of warranties are a great way to ensure your investment is protected. At SiraWeb, we stand behind our products and offer a price-match guarantee for your peace of mind.
Maintaining Your Tonneau Cover

Once you purchase your tonneau cover, the maintenance process is simple — but important. Washing your cover with soap and water will generally keep it clean. If you have a vinyl tonneau cover, you may want to consider purchasing vinyl cleaner to maintain your vinyl so it doesn't wear earlier than it should.
If you purchase a soft cover, on the other hand, the only real maintenance you might have to perform is tightening the cover after approximately a year of usage. Because tonneau covers are under such high pressure in order to keep a smooth finish, they may begin to stretch slightly over time. At first, it won't be noticeable but, over time, it may begin to flap as you drive and produce an unenjoyable noise.

Most tonneau covers have a tension rod installed in them, which makes the adjustment as painless as turning a bolt.
Find Affordable Tonneau Covers at SiraWeb
Purchasing a tonneau cover for your truck is as much a choice about your vehicle as it is about yourself. This guide should help you narrow down your choices based on your specific scenario. Regardless of what type and style of tonneau cover you choose, you'll have a piece of equipment that will make your truck sleeker and more versatile. The savings in gas alone will make the purchase of a tonneau cover pay for itself in a year or two's time.
Browse the inventory of tonneau covers at SiraWeb today, and find the make and model that best fits your truck. Our team can also answer any questions about our products, so we can make your purchase easier and less stressful. Contact us today!